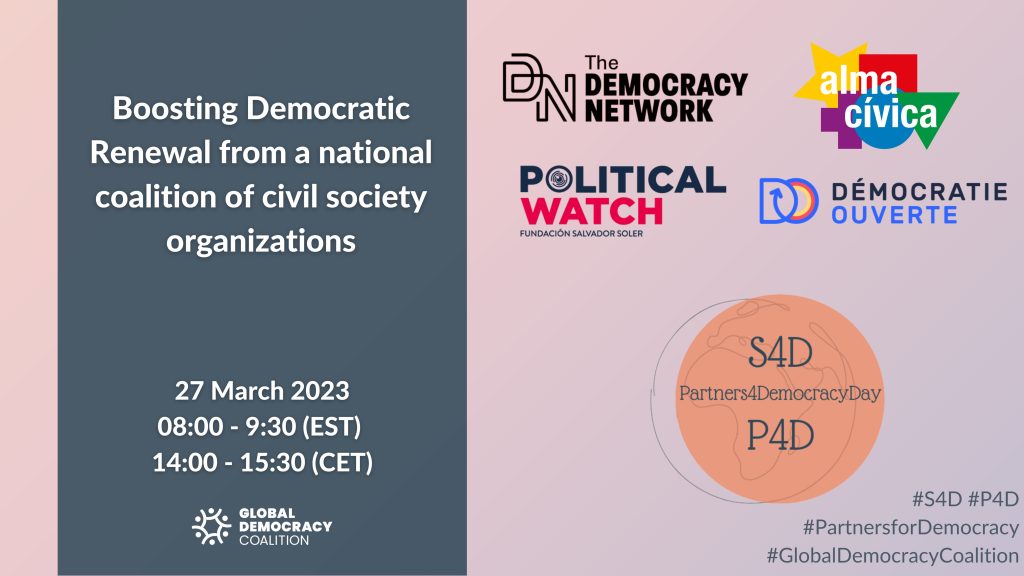 Boosting Democratic Renewal from a national coalition of civil society organizations
The panel dealt with how the construction of alliances and platforms of Civil Society Organizations works to promote Democratic Renewal in a country, and manages to propose and place innovations and reforms on the public agenda that give people a greater voice and power in decision-making. public decisions. Through representatives of 3 specific national experiences (Democracy Network, Démocratie Ouverte and Amplifying Democracy) ideas, experiences and reflections will be discussed and shared about the challenges, but also the strengths, of promoting Democratic Renewal through this type of platform. We believe that this dialogue can be interesting both for organizations that are already working on the Democratic Renewal, and for organizations that are considering taking a step forward and promoting an initiative of these characteristics.
El panel versa sobre cómo la construcción de alianzas y plataformas de Organizaciones de la Sociedad Civil puede impulsar la Renovación Democrática en un país, logrando proponer y colocar en la agenda pública innovaciones y reformas que den mayor voz y poder a las personas en la toma de decisiones públicas. A través de representantes de 3 experiencias nacionales concretas (Democracy Network, Démocratie Ouverte y Ampliando Democracia) se dialogará y se compartirán ideas, experiencias y reflexiones acerca de los retos, pero también las fortalezas, de impulsar la Renovación Democrática mediante este tipo de plataformas. Creemos que este diálogo puede ser interesante tanto para las organizaciones que ya estén trabajando en la Renovación Democrática, como para organizaciones que se estén planteando dar un paso al frente e impulsar una iniciativa de estas características.
Panelists
Paola Cannata – Political Watch
Jessie Joe Jacobs – Democracy Network
Fanette Bardin – Democratie Ouverte
Olga Caballero – Alma Cívica
Javier Perez – Political Watch (Moderator)