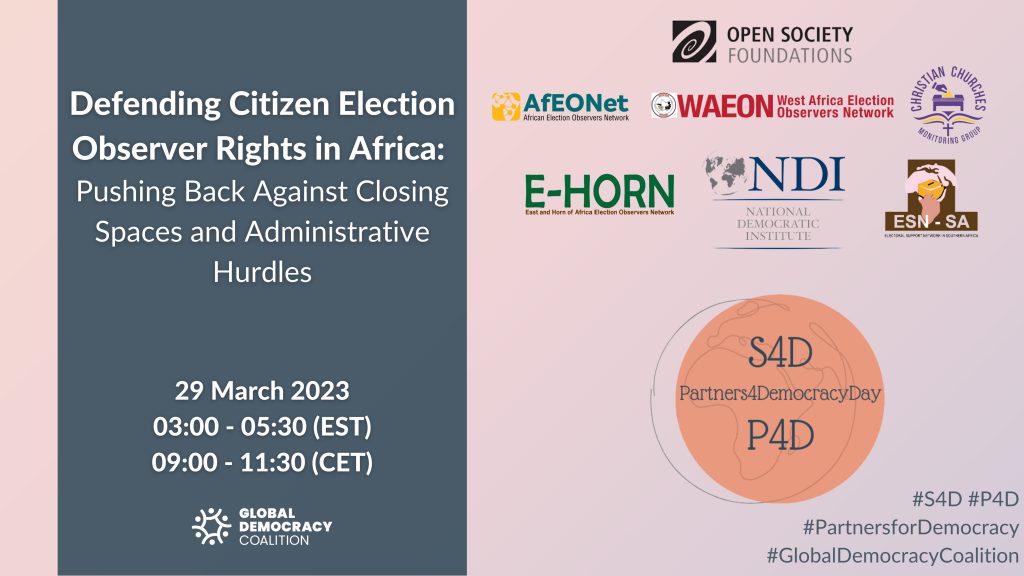 Defending Citizen Election Observer Rights in Africa: Pushing Back Against Closing Spaces and Administrative Hurdles
Reflecting the global democratic decline, observer rights are under threat around the world and across Africa. In many countries, political space is closing and restrictive laws and regulations are being used to undermine the ability of citizen organizations to observe electoral processes. The development of independent, non-partisan citizen observer organizations in every region of the world is one of the most important democratic achievements of the past 40 years. Citizen observers across Africa are pushing back against this trend to promote more inclusive, accountable and transparent elections.
This event discussed the threats facing citizen election observer rights in Africa and the ways to which they are defending their right to observe elections.
Speakers
Samson Itodo, Executive Director, Yiaga Africa (Moderator)
Dr Kojo Asante, Director of Advocacy and Policy Engagement, CDD-Ghana; Director, WAEON Secretariat
Dr Sarah Bireete, Executive Director, CGG (Uganda) and Chairperson, E-HORN
Peter Mwanangombe, Program Manager, CCMG (Zambia)
Marcella Samba-Sesay, Executive Director, CCG and National Chairperson, NEW (Sierra Leone).