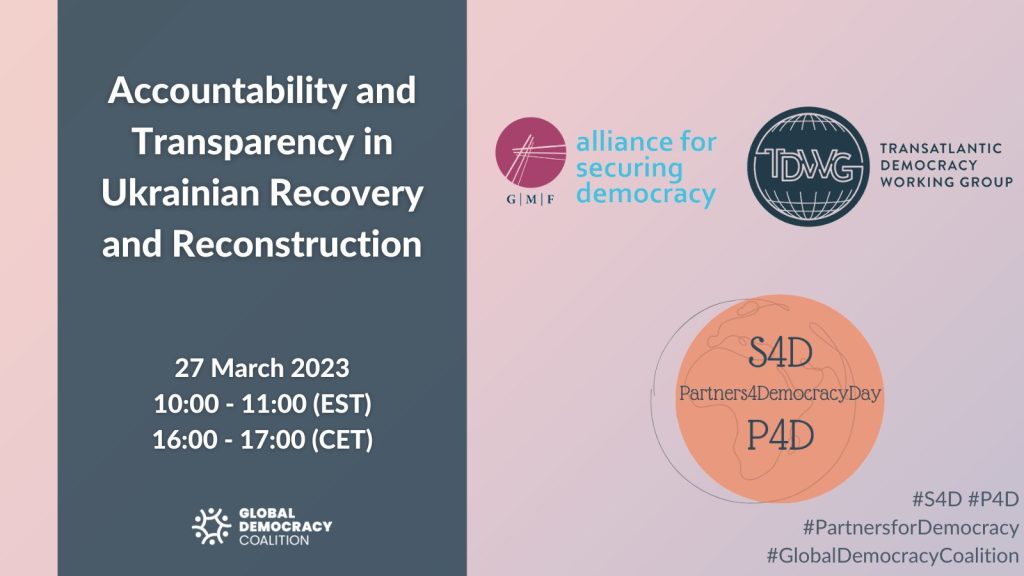 Accountability and Transparency in Ukrainian Recovery and Reconstruction
The scale of Russia's devastation and destruction in Ukraine will eventually have to be matched by a recovery and reconstruction process only matched in history by the Marshall Plan. The key to preventing such massive flows of financial assistance from leaking into corruption and seeding a new oligarchy – and thus undermining the European future, sovereignty, and other ideals for which Ukrainians are sacrificing – will be relying on Ukraine's exceptionally deep and capable ranks of civil society that has been researching, monitoring, and advocating around risks of corruption for many years.
The Transatlantic Democracy Working Group and the Alliance for Securing Democracy at the German Marshall Fund are bringing together three leading Ukrainian civil society experts to detail the role of anti-corruption in both current war and the future peace. This will include how anti-corruption progress motivated Vladimir Putin to attack Ukraine, how that progress has continued with accountability during the war, and how civil society is building transparent systems to prepare for recovery and reconstruction.
This interactive event will be streamed online and open to the public.
Speakers
Josh Rudolph – Senior Fellow and Head of the Malign Finance and Corruption Team, Alliance for Securing Democracy at the German Marshall Fund (Moderator)
Olena Halushka – Board Member of the Anti-Corruption Action Centre and Co-Founder of the International Center for Ukrainian Victory
Viktor Nestulia – Chairman of the Board for the RISE Ukraine Coalition and Head of Ukraine Support for Open Contracting Partnership
Andrii Borovyk – Executive Director for Transparency International Ukraine