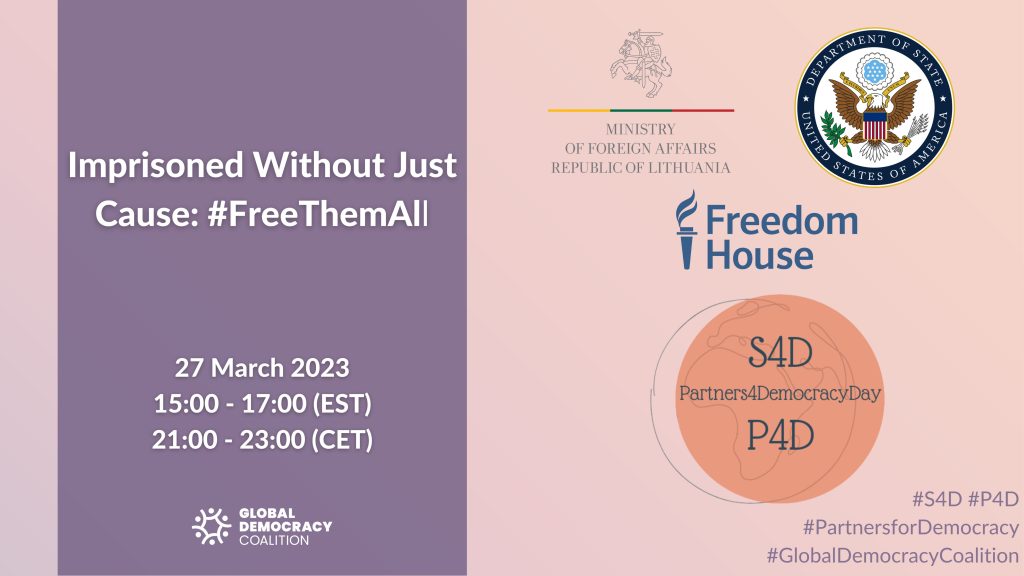 Imprisoned Without Just Cause: #FreeThemAll
The U.S. Department of State, Freedom House, and the Lithuanian Ministry of Foreign Affairs at the Embassy of the Republic of Lithuania held an in-person panel discussion and reception dedicated to raising awareness of the staggering rate of political imprisonment worldwide. The event featured remarks from democratic government officials actively seeking the release of political prisoners worldwide and included a panel discussion of prominent democratic activists who themselves were once unjustly detained or whose loved ones are currently behind bars.
The reception that followed the panel discussion was attended by several formerly detained political prisoners from around the world, who offered to share their stories and encourage further coordinated action to urge the release of other political prisoners worldwide.
Speakers
Vice-Minister Mantas Adomėnas, Lithuania Ministry of Foreign Affairs
Under Secretary Uzra Zeya, U.S. Department of State
Nicole Bibbins Sedaca, Executive Vice President, Freedom House
Leopoldo López, Freedom Fighter and Co-Founder of the World Liberty Congress
Pastor Evan Mawarire, Director of Education, Renew Democracy Initiative
Evgenia Kara-Murza, Advocacy Coordinator at the Free Russia Foundation
Monovithya Kem, Director-General of Public Affairs for Cambodia's Exiled Opposition