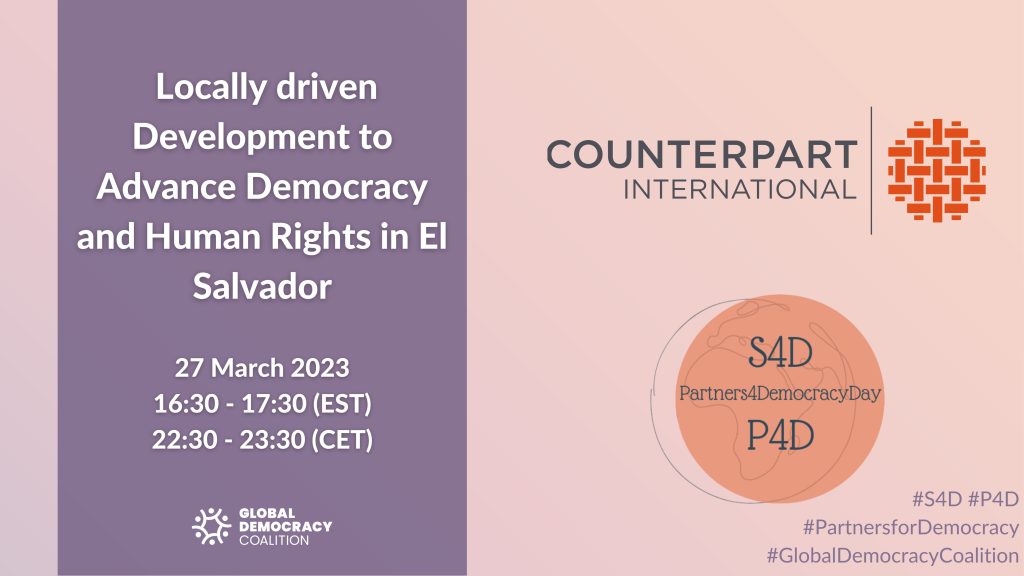 Locally driven Development to Advance Democracy and Human Rights in El Salvador
Please join Counterpart International for a discussion on Counterpart International's unique approach to working with civic organizations in challenging political contexts.  This discussion is a part of the Global Democracy Coalition's Partners for Democracy Day. Moderated by Tatyana Veneges Swanson, Counterpart's Associate Director, El Salvador, the event brings Counterpart's Salvadoran civil society partners together to discuss Counterpart's approach to collaboration, co-creation, and empower them to promote human rights. This event is virtual only and will be in Spanish.
Únete a la conversación sobre el enfoque único de trabajo de Counterpart International con organizaciones de la sociedad civil en contextos políticos complejos. Este debate forma parte de la iniciativa de Socios de la Coalición Global por la Democracia en el marco del Día de la Democracia. Moderado por Tatyana Venegas Swanson, Directora Asociada de Counterpart El Salvador, el evento reunirá a socios de la sociedad civil de Counterpart de El Salvador para discutir el enfoque de colaboración, co-creación y empoderamiento para promover los derechos humanos. Este evento es sólo virtual y será en español.