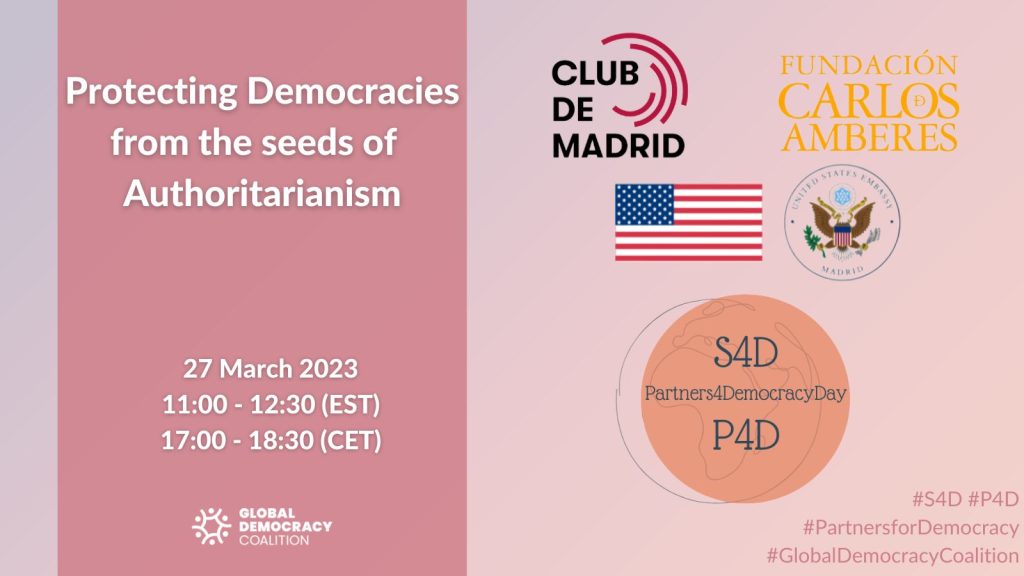 Protecting Democracies from the seeds of Authoritarianism
Club de Madrid, in collaboration with the U.S. Embassy and Fundación Carlos Amberes, has organized during these weeks a series of sessions to put on the table the danger that authoritarianism poses to democracies in different parts of the world.  These sessions converged on March 27th, in which activists from around the world joined voices with those of Club de Madrid Members to discuss how to solve the problem faced by democracies around the world.
Protecting Democracies from the Seeds of Authoritarianism featured freedom fighters from different countries around the world who, through their experience, explored ways to stop the rise of authoritarianism.
Among the participants in the event were experts such as:
Hanna Suchocka, Prime Minister of Poland (1992-1993) and Member of Club de Madrid.
Mehdi Jomaa, Prime Minister of Tunisia (2014) and Member of Club de Madrid.
Bianca Jagger, President of the Bianca Jagger Human Rights Foundation and human rights defender.
Carolina Barrero, Cuban democracy activist and human rights defender.
Sanam Naraghi Anderlini, Director of the Centre for Women, Peace and Security and founder and CEO of the International Civil Society Action Network (ICAN). Online
Thinzar Shunlei Yi, Advocacy Coordinator, Action Committee for Democracy Development, Myanmar. Online
.
Opening Session
Daniel de Busturia, Secretary of the Board of Trustees, Fundación Carlos de Amberes.
María Elena Agüero, Secretary General of Club de Madrid.
Conrad Tribble, Deputy chief of Mission, Embassy of the United States of America to Spain.
The session was moderated by Véronique M. Choquette, Senior Officer for Foreign Policy and Diplomacy, Embassy of Canada to Spain.