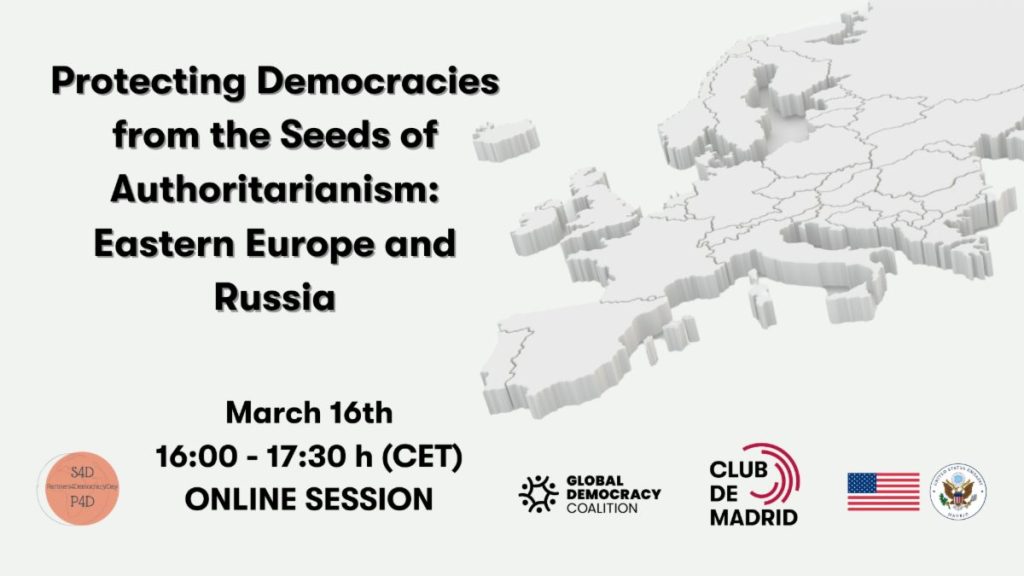 Protecting Democracy from the Seeds of Authoritarianism: Eastern Europe and Russia
The rise of authoritarianism is an existential challenge to our democratic societies. Contemporary authoritarianism now poses an ideological test to the liberal order in a way not seen since the end of the Cold War. There is a very real risk that this could lead to a "spillover effect" whereby authoritarian tendencies permeate established democracies.
Through the democracy defenders' and activists' testimonies, Club de Madrid will support their fight and raise awareness of the need to protect, nurture and promote democracy by all means and at all times. By the same token, the participation of Club de Madrid Members in the initiative will draw attention to testimonies that may otherwise go unnoticed and open spaces for activists and civil society representatives to shed light on their fights against authoritarianism.
With the support of the US Embassy Club de Madrid will develop a series of dialogues between Club de Madrid Members and democracy activists to provide holistic support and protection to human rights and democracy defenders, supporting the United States, Spain and European Union efforts in this matter. At the same time, Club de Madrid Members will use their good offices and experience to provide advice, visibility and international protection to participating activists.
The event will take place on 16 March, 16:00 -17:30 CET. If you are interested on participating please register below.
This interactive event will be streamed online and open to the public.