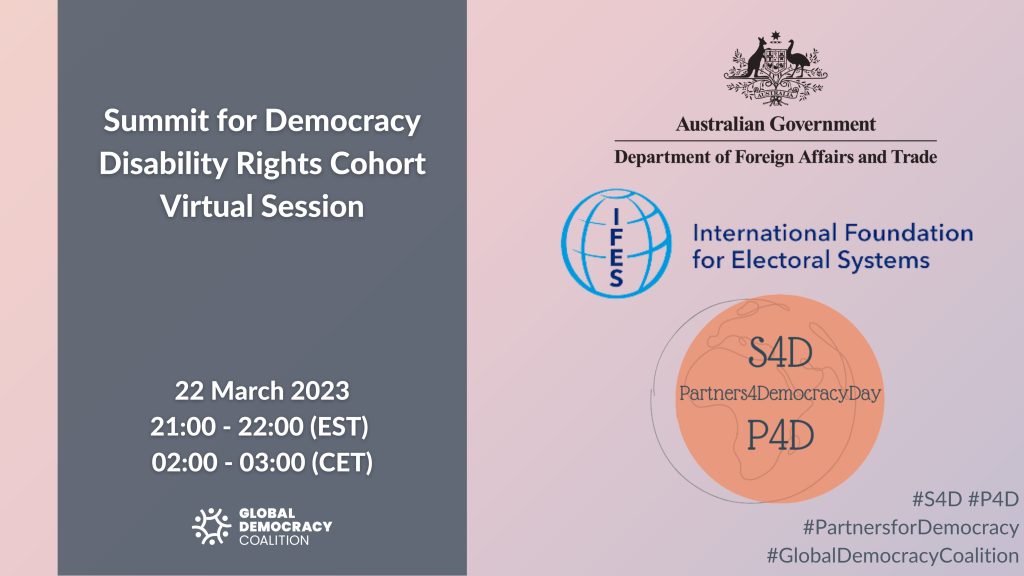 Summit for Democracy: Disability Rights Cohort Virtual Session
As part of the 2023 Summit for Democracy, cohorts have been formed around key themes to help advance topic areas raised at the first Summit in 2021. The Disability Rights Cohort is led by the Government of Australia and the International Foundation for Electoral Systems (IFES).
One out of every seven people in the world has a disability, yet citizens with disabilities remain under-represented in political and public life. Participation of persons with disabilities in government institutions, public policy, and legislation provides the basis for promoting equality in all aspects of society by breaking down social stigmas and increasing accountability. Active engagement in elections can lead to tangible policy changes on issues such as inclusive education and accessible transportation. Research has shown that public pressure can create strong incentives for elected politicians to deliver public services and develop social protection policies that benefit traditionally marginalized communities, such as persons with disabilities. With the ongoing effects of the COVID-19 pandemic, climate change, and economic instability disproportionately impacting persons with disabilities, having a voice in governance is crucial.
This session will provide more details on the Summit for Democracy, what the Disability Rights Cohort proposes to achieve, and how governments and civil society organizations can engage going forward.
Participants will come away from this session with:
An overview of the Summit for Democracy process
Overview of the Summit for Democracy's Disability Cohort draft concept
Understanding of Summit for Democracy's Disability Cohort's operating principles
Understanding of Inclusive Democracy Year of Action how partners can engage at the national and international levels, including ideas for commitments to strengthen inclusive democracy and governance
Details on how to join the Disability Rights Cohort
Speakers:
Sara Minkara, Special Advisor for International Disability Rights, U.S. State Department
Andrea Cole, Director, Disability and Social Inclusion, Australian Department of Foreign Affairs and Trade
Virginia Atkinson, Senior Global Inclusion Advisor, International Foundation for Electoral Systems  
Auslan sign language interpretation and English captioning will be available during this event. Please RSVP with any other reasonable accommodation requests.