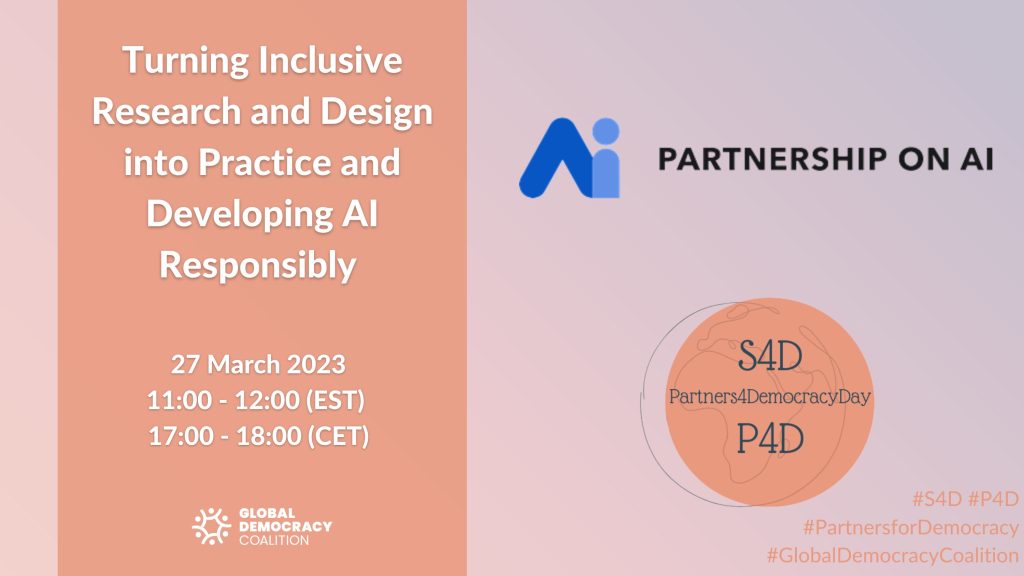 Turning Inclusive Research and Design into Practice and Developing AI Responsibly
In collaboration with the Global Democracy Coalition, Partnership on AI (PAI) held a session during their Partners for Democracy Day on March 27, 2023.
This virtual "fireside chat" explored how inclusivity and equity fit into the development and deployment of AI technologies, where the field is today, and where the field needs to go in order to ensure AI technologies can benefit all people.
Dr. Christine Custis, PAI's Director of Programs and Research and Dr. Tina M. Park, PAI's Head of Inclusive Research and Design, will discuss the frameworks, tools, and resources needed for AI developers to work collaboratively with other practitioners, academic researchers, government entities, and most importantly, members of the public when pursuing their innovative projects. Audience members will have the opportunity to ask questions and share their own experiences with integrating participatory engagement practices in their work.
Panelists
Tina M. Park, PhD, Partnership on AI
Christine Custis, PhD, Partnership on AI
For more information: https://partnershiponai.org/event/turning-inclusive-research-and-design-into-practice-and-developing-ai-responsibly/